https://www.ldconstruction.com/wp-content/uploads/2023/05/20230530_101839-scaled.jpg
1152
2560
Amanda Watson
/wp-content/uploads/2016/09/logo-larson-danielson2.jpg
Amanda Watson
2023-05-31 15:17:17
2023-06-07 15:56:21
Excellence in construction celebrated at awards banquet
(Michigan City, Ind.) – Larson-Danielson is the design-build contractor for a new 39,000 square foot healthcare facility in Michigan City, Ind. for HealthLinc. The Valparaiso-based community health center held a groundbreaking ceremony for the new clinic on November 28.
The event was attended by U.S. Rep. Frank Mrvan, HealthLinc representatives, Michigan City Mayor Duan Parry, and representatives from the Economic Development Corporation Michigan City and Ivy Tech Community College. The new facility is located at 200 Alfred Avenue, behind Ivy Tech Community College.
The new clinic, which is expected to open in the first quarter of 2024, features 33 medical exam rooms, 12 dental rooms, two procedure rooms, and a community center. The new location will offer a variety of services, including medical, dental, behavioral health, optometry, chiropractic, obstetrics and pharmaceutical.
"We look to improve the health of our most vulnerable residents," said Beth Wrobel, HealthLinc CEO. "We are investing more than $15 million into a new state-of-the-art clinic that will respond to the increase in need and ensure health equity is available."
In addition to traditional medical services, HealthLinc will offer addiction services, a medical-legal partnership, health insurance enrollment assistance, and a community outreach team at the new facility. HealthLinc is also collaborating with Ivy Tech Community College on the new facility and will offer health care students the opportunity for hands-on experience in their fields.
The project team includes Facet Architecture as the architect; Jones Petrie Rafiniski as the civil engineer; Frost Engineering and Consulting as the structural engineer; and Millies Engineering Group as the MEP Engineer.
Related Articles
HealthLinc Expansion Underway – Hometown News Now
New HealthLinc clinic to to expand services, add partnership – LaPorte County Life
HealthLinc Breaks Ground on New Clinic in Michigan City – Building Indiana Business
https://www.ldconstruction.com/wp-content/uploads/2022/11/Healthlinc-Job-Sign.jpg
800
1600
Amanda Watson
/wp-content/uploads/2016/09/logo-larson-danielson2.jpg
Amanda Watson
2022-11-30 21:29:07
2022-11-30 21:32:51
Larson-Danielson begins new HealthLinc facility in Michigan City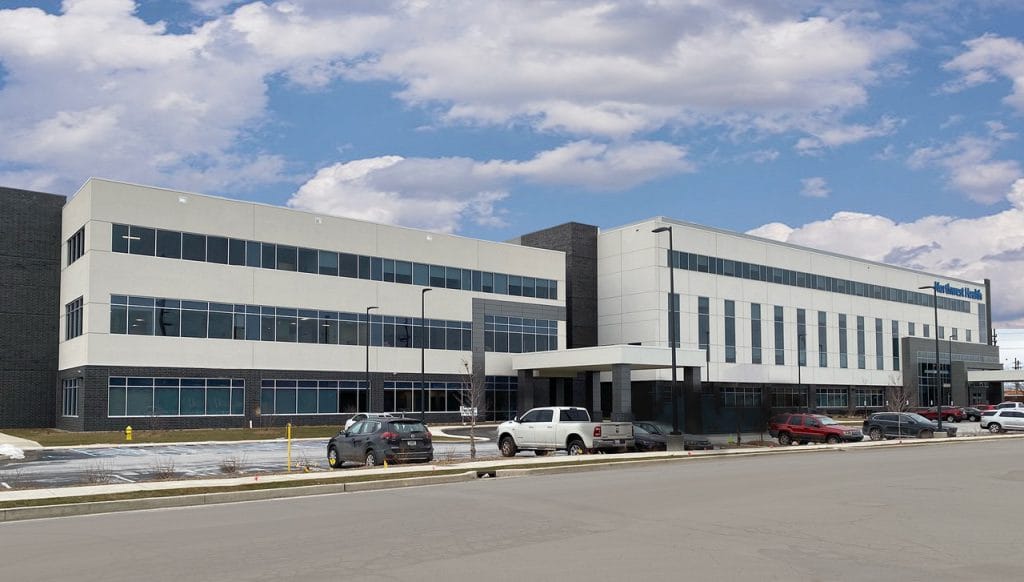 A new three-story, 45,800 square-foot building, which houses assorted medical services and offices, has opened next to Northwest Health – La Porte.
The building, which is attached to the hospital that opened in October 2020 at 1331 State St., marks the competition of the new construction and transition of services from the original hospital at 1007 Lincolnway.
The former hospital site continued to house the sleep lab, wound center, infusion center and two physician offices until the medical office building was completed. It also had been used most recently as a COVID vaccination site.
Northwest Health has said the former hospital site would be torn down if another use could not be found for it.
The new building includes a combination of physician offices and hospital-based services. It connects to the hospital on both the first and second floors providing convenience to patients and staff.
Included in the new office building are the hospital's arrhythmia clinic, wound care, sleep center, infusion center and cardiopulmonary department. It also houses Northwest Medical Group's cardiology, hematology and oncology, gastroenterology, general surgery, and urology practices.
The medical office building project was announced in spring 2020.
See original article here.
Larson-Danielson Construction served as the general contractor for the $12 million healthcare project, which took approximately 15 months to complete.
https://www.ldconstruction.com/wp-content/uploads/2022/08/Northwest-Health-LaPorte-MOB.jpg
510
900
ldnews
/wp-content/uploads/2016/09/logo-larson-danielson2.jpg
ldnews
2022-02-11 15:53:27
2023-03-15 18:42:40
New medical office building opens at Northwest Health – La Porte
LARSON-DANIELSON CONSTRUCTION COMPANY