By Lesly Bailey
NWIBQ
Retiring Workers and a Wealth of Projects Create Excellent Opportunities
Industry leaders are striving to pound home the reality and benefits of a career in construction while riding the wave of change to ensure a trained and knowledgeable workforce is available for Northern Indiana projects.
Kevin Comerford, director of professional development at the Construction Advancement Foundation (CAF) in Portage, says the industry continues to be a key sector for regional growth.
"When you think of construction, it means that either the government or the private sector is making an investment into the economy," he says. "Construction infrastructure spending is a key driver of productivity. Businesses and investors consider the quality of the infrastructure as one of the key elements when considering location decisions."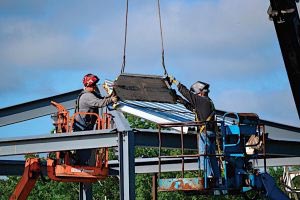 Chris Buckman, vice president of corporate construction at BMWC Constructors Inc., says Northwest Indiana has strong industrial and highway infrastructure arenas. The company has offices across the country, including in Indianapolis and Northwest Indiana as well as Ohio and Washington.
"These two industries provide consistent opportunities that allow for a strong supply of skilled construction resources," he says. "Commercial construction provides opportunities as well, but it is the ongoing maintenance and capital improvement opportunities of the industrial sector and ongoing highway infrastructure initiatives that really make the difference for Northwest Indiana by creating a consistent demand for construction services.
"This demand drives both job sustainability and growth, which in turn fuels the economy. Having such a robust construction market spurs other support for businesses as well. We work in regions across the country and this region is certainly among one of the most active."
Tim Larson, president of Larson-Danielson Construction Co. Inc., based in LaPorte, says a reliable and capable industry is necessary to take on the region's economic development opportunities. "The Northwest Indiana construction industry is well trained and has a wide range of skills and manpower available to handle any project that may come up in the region," he says. "This helps promote economic development when potential customers know their construction needs will be handled professionally, safely and quickly."
Organizations are working to keep the pipeline of workers filled through promotion of construction careers.
Rich Gamblin, apprenticeship coordinator for Ironworkers Local #395, says attending career fairs is an avenue to showcase the industry.
"A lot of what we do is word of mouth as we have been around 25 years," adds Jim Clarida, president of International Brotherhood of Electrical Workers Local 531. "We promote through social media and radio and go into the high schools to highlight what we do and how to get into our apprenticeships."
Comerford says CAF also works closely with area schools and colleges to spotlight the areas within the construction field. "We visit dozens of schools annually and talk to hundreds of students about the career opportunities in construction," he says. "The CAF also coordinates several field trips every year. These are typically for high school counselors and high school building trade students.
"Field trips typically include a visit to our training center in Portage, where participants are given an extensive presentation on the construction industry and what it takes to succeed in a construction career."
The CAF team has also created a website, www.webuildnwi.com, as a central location for information on the industry. "This website acts as somewhat of a clearinghouse for all of this information and compiles it in an easy-to-navigate format," Comerford says. "I think in many instances people try to get into construction because of the lucrative pay and benefits. With that in mind, we designed the website in a way to let prospective applicants understand that the work is often very hard, and it takes a unique individual to succeed in today's construction workforce."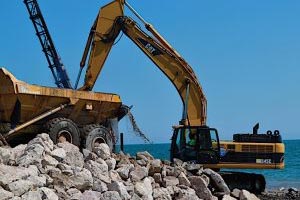 Comerford says there is a possible challenge looming on the horizon as Baby Boomers are retiring. "As they leave, so does much of the skills, experience, knowledge and work ethic that they bring to the table," he says. "Combine that with the fact that the U.S. infrastructure is in dire need of replacement and you have the perfect storm for a skill shortage."
In order to fill this gap, Buckman says the industry could benefit from an image update. "Construction careers offer unbelievable opportunities, but unfortunately, our industry has struggled with an identity crisis as a large number of folks [who are] looking for a career see construction as less sophisticated and not as attractive as other industries," he says. "The reality is that a large number of owners of construction companies started as workers in the field.
"For those that prefer to work in the field, they have enjoyed careers that are as challenging and financially rewarding as careers in any other industry. We need to continue to work hard to promote the construction industry and the unbelievable opportunities it presents and battle the negative perceptions."
Comerford also sees how views of the industry can make it more challenging to attract workers. "I think the younger generation views the industry as old-fashioned and not very dynamic," he says. "I don't think that the average high school student understands the sheer variety of careers that exist in the construction industry.
"It's true that many of the careers in the industry require working with your hands, and I don't think that will ever go away. However, construction workers regularly use highly sophisticated equipment and instrumentation in order to perform their job duties in a safe and efficient manner. So I think we need to break down some of these stereotypes in order to attract workers."
Clarida finds that engaging the next generation requires a shift in tactics because time on smartphones and video game systems has replaced playing outside. "The world has changed so much," he says. "We need to get kids who like to work with their hands and have some mechanical aptitude and an inquisitiveness.
"We are looking for the kids who grew up wondering how the TV works and took it apart. They are still out there. Technology is changing things, but there are still kids who build their own computers and electronics and have a mind to see how things work."
Gamblin adds that it is important to highlight the reality of life as a construction worker while connecting with interested individuals.
GOOD WORKERS
Ironworkers Local #395 helps young people understand what it takes to succeed in the construction industry.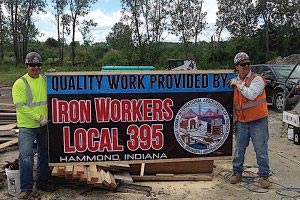 "Ironworking is a physical job and it also requires determination, resilience and good planning. Honestly, some individuals struggle with that concept," he says. "It is important to expose students to all the elements of the job, so they understand what the work really entails. We focus on not just the technical knowledge of ironworking, but also what makes a good worker."
Programs such as Helmets to Hardhats, Veterans in Piping and Indiana Plan seek to spur veterans and minorities down the construction career path. "We work closely with several veterans groups to help the men and women who have served our country find gainful employment within the construction industry," Comerford says.
Proper initial training and apprenticeship programs keep the workforce strong and safe. The ironworkers' four-year comprehensive apprenticeship program blends job training and classroom/shop hours. "We also offer onsite Ivy Tech college courses that fold into the ironworking classes and training that culminates in an associate's degree of applied science," Gamblin says.
Clarida says it takes 8,000 on-the-job hours to be considered topped out to become a journeyman. "Training is our bread and butter and what separates us from everyone else," he says. "Most of our guys go through five years of an apprenticeship and five years in a classroom in a college-type setting."
Clarida says the training is self-funded and participants, who pay for books, have the opportunity to earn money as they learn. "We have a 99 percent graduation rate," he says. "You have to have the ability to be able to handle working full-time, going to school, and your family, if you have one."
After graduation, maintaining elevated skill sets is required for a solid labor force in the region. Larson says the industry is becoming more regulated with specific safety requirements, task training, drug testing, background checks and equipment operating certifications.
"Workers today need to be better trained and keep their training and certifications up-to-date," he says. "Workers today are more than just a body that can perform manual labor … today's construction workers are required to work smarter and safer than ever before."
CAF provides opportunities for professional development and training in such areas as project management and bidding procedures. It also has the Construction Safety Institute, which provides a platform for workers to learn safety tactics in a hands-on way.
"The building incorporates structures such as a scaffold tower, underground storage tank and a variety of safety equipment, which allows for the safe simulation of actual safety hazards that construction workers will encounter while working on construction sites," Comerford says. "The new building was constructed to help the Northwest Indiana construction industry achieve the bold goal of zero accidents."
Gamblin says adaptability and planning are key aspects to the industry's continued growth and development. "Most of our work is in maintenance and with advancements in technology and the steel mills downsizing, the construction industry has had to adapt," he says. "The changing face of construction does affect our apprentices and journeymen, but we have been preparing and planning for these circumstances.
"Pre-planning has become a big part of our industry. At the school, we focus on the well roundedness of our apprentices. We arm them with the skills to be adaptable."
Clarida adds that for electricians, staying up on code changes and adjusting to the shift toward LED lights are vital. "We roll it into our training regimen," he says. "You can't stop progress. You have to get on board with it."
Buckman says the industry will only continue to benefit from companies and organizations working together to foster continued learning.
"The pace of change makes ongoing training and education an extremely important aspect of our business," he says. "If you are not continually learning and upgrading your skill sets, you will be left behind."
https://www.ldconstruction.com/wp-content/uploads/2017/04/careers-image-one.jpg
200
300
ldnews
/wp-content/uploads/2016/09/logo-larson-danielson2.jpg
ldnews
2017-04-05 16:48:44
2022-08-22 15:25:10
Careers in construction provide ample opportunities