Larson-Danielson Construction Company was honored by the Construction Advancement Foundation (CAF) at the annual CAF/NWIBRT Awards Banquet on May 10. The firm was named the Commercial Contractor of the Year and was given the Commercial Project of the Year award for the Northwest Health – La Porte medical office building, which was completed in 2022.
"We are extremely honored and humbled to receive these prestigious construction awards from the Construction Advancement Foundation," said Nick Larson, vice president of Larson-Danielson. "The awards serve as a testament to our incredible team and partners, without whom these achievements would not be possible."
Founded in 1967, CAF is a regional trade organization for the construction industry which includes more than 500 members across Northwest Indiana. Each year, CAF awards companies that have demonstrated excellence in safety, craftsmanship, teamwork, quality, innovation, consideration for the environment, community support, and training. There were five categories of winning contractors, based on the nature of their services.
Commercial Contractor of the Year
The award for Commercial Contractor of the Year went to Larson-Danielson for work on commercial public and private-sector facilities completed in 2022, including:
Trailyard, Café and Restaurant – Valparaiso, IN
MAAC Foundation, Tactical Village and Training Building – Valparaiso, IN
Phoenix Metals, Office Renovations – Hammond, IN
Ivy Tech East Chicago, Welding Lab Renovations – East Chicago, IN
Hanover Community School Corporation, Hanover Middle School General Trades & Masonry Packages – Cedar Lake, IN
City of South Bend, Morris Performing Arts Center Slab Replacement – South Bend, IN
New Prairie School Corporation, New Halftime Building – New Carlisle, IN
People's Bank, Banking Center 2nd Floor Renovations – Munster, IN

Commercial Project of the Year
CAF also gives Project of the Year awards each year across five categories. Nominees are evaluated based on the contractor's ability to deliver a quality project within the owner's budget and schedule while exhibiting a firm commitment to safety.
Larson-Danielson was also awarded the Commercial Project of the Year Award for the Northwest Health – La Porte medical office building. The 45,800 square foot, three-story facility is owned by Catalyst Healthcare Real Estate and was designed by Gresham Smith.
The building is multi-tenant medical facility that took approximately 15 months to complete from beginning to end. Construction began with Geopier foundation stabilization in early December 2020 and foundation construction at the end of December.
Site construction included parking for the public and doctors surrounding the new building, and a remote parking lot for additional hospital employee parking across the street. The building was completed and ready for occupancy to begin by the end of December 2021.
The building features a combination of physician offices and other hospital-based services, and is connected to the hospital on the first and second floors. The project was fully completed, and the hospital officially opened operations in the medical office building in January 2022.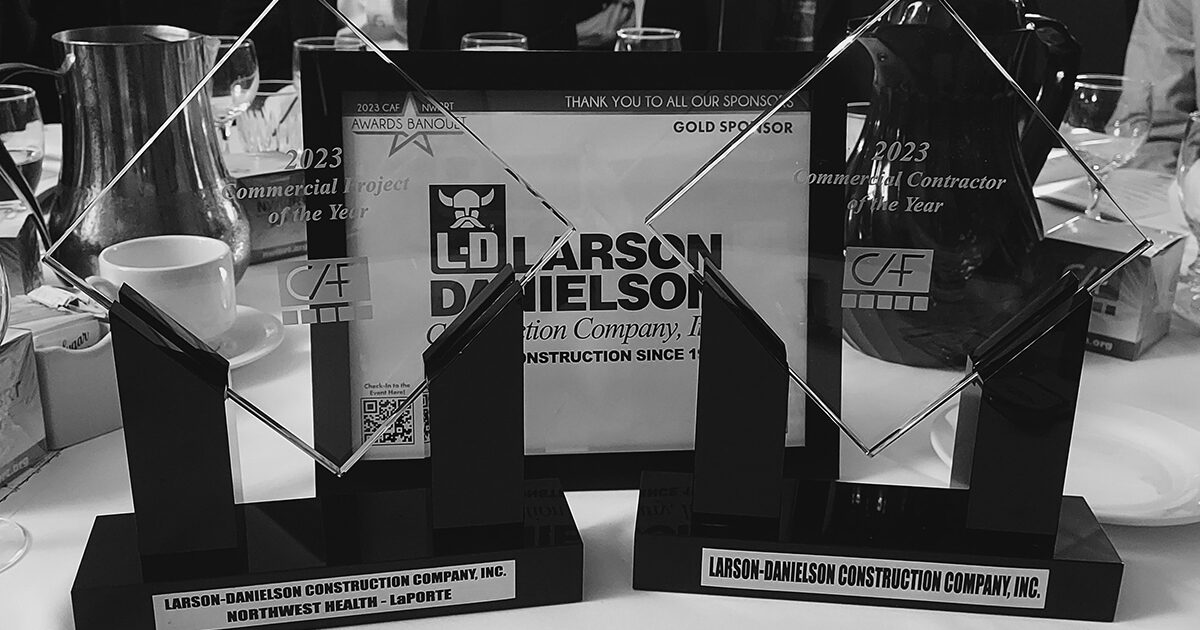 Related News
CAF Celebrates NWI's Top Contractors and Projects – Building Indiana
Construction companies earn honors for performance, safety – Northwest Indiana Business Magazine
Solid Platforms, Hasse Construction, Falk PLI and Cargill among 60 winners of construction awards – MBNC Business Daily News & Updates
60 Companies Honored for Outstanding Performance in Safety and Construction – NewsBreak
Northwest Indiana Business RoundTable Honors Companies for Outstanding Performance – Construction Equipment Guide
https://www.ldconstruction.com/wp-content/uploads/2023/05/CAF-NWIBRT_LD-Team.jpg
653
1200
Amanda Watson
/wp-content/uploads/2016/09/logo-larson-danielson2.jpg
Amanda Watson
2023-05-15 10:00:01
2023-05-25 12:56:44
Larson-Danielson awarded at annual construction banquet